Information for persons transiting through Hungary.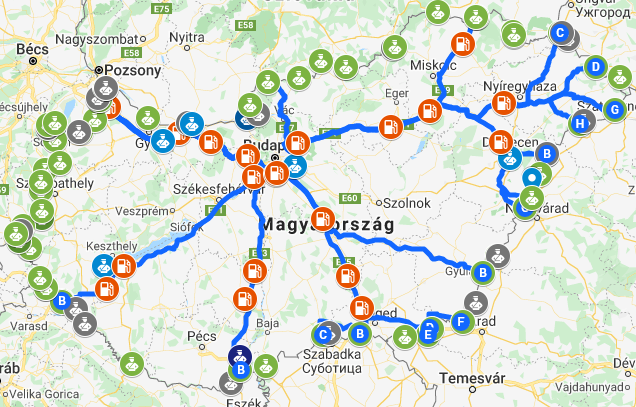 Foreign citizens arriving from abroad in passenger traffic to transit can enter Hungary if they undergo a medical check upon entry and such a check does not reveal the suspicion of infection.
Further conditions to fulfil by foreign citizens wishing to enter:
- to meet entry criteria specified by the Schengen Borders Code,
- to provide satisfactory proof of the objective and destination of their travel,
- to confirm that their entry to the destination country and neighbouring country of Hungary situated in their route is ensured.
Foreign citizens arriving from abroad can only use the designated border crossing points and route to transit, can only stop at rest areas designated for transit traffic, for a reason essential for transiting - especially for sanitary or technical reasons -, and are obliged to leave the territory of Hungary within 24 hours.
Transiting from and to the territory of Budapest Liszt Ferenc International Airport and Debrecen International Airport is ensured for those who comply with the conditions laid down in the general rules on transiting.
Transiting on river waterways (Danube) is only ensured if passengers of the passenger ship do not leave the ship even if it calls at a port.
Border crossing points to use for transiting:
Austria:
Slovakia:
Rajka
Hont-Parassapuszta
Tornyosnémeti (motorway)
Tornyosnémeti (road)
Komárom
Ukraine:
Romania:
Csengersima
Vállaj
Nyírábrány
Nagykerek
Ártánd
Gyula
Battonya
Csanádpalota
Nagylak
Serbia
Croatia
Udvar
Letenye (motorway)
Letenye (road)
Slovenia:
Petrol stations and rest areas to use for transit traffic:
- M1 (162. km) MOL Moson
- M1 (93. km) OMV Bábolna
- M1 (67. km) SHELL Remeteség rest area
- M1 (28. km) MOL Zsámbék
- M7 LUKOIL (26. km) Tárnok rest area
- M7 SHELL (167. km) Balatonkeresztúr rest area
- M7 (194. km) INA Zalakomár
- M6 (108. km) M.PETROL Paks rest area
- M6 (134. km) MOL Fácánkert
- M3 (24. km) LUKOIL Jakabpuszta rest area
- M3 (106. km) MOL Rekettyés
- M3 (142. km) SHELL Gelej
- M35 (30. km) M.PETROL Józsa rest area
- M3 (214. km) M.PETROL Kálmánháza rest area
- national road no. 3. (221. km) MOL Encs
- M5 (67. km) SHELL Lajosmizse
- M5 (121. km) M.PETROL Petőfiszállás rest area
- M5 (151. km) MOL Szatymaz
- M0 (19. km) SHELL Csepel rest area
- M0 (19. km) OMV Csepel rest area